The following is an open letter to the incredible people that went through Jason Crandell's 300-Hour Teaching Training in San Francisco this year:
Dearest Friends,
As I reflect upon the completion of my 300-Hour Teacher Training with Jason Crandell I'm of course overwhelmed by the amount of knowledge I'm trying to process. During our time together we crammed in so much information about anatomy, alignment, philosophy, assists, the business of yoga, and how much coffee Jason drinks in one day. Many of us simmered in that beautiful Love Story Yoga incubator for six solid weeks together. We were smelly. We were sleep deprived. We felt muscles that had been dormant for too long. We folded back the layers to reveal our insecurities and doubts. We created a community of badass yoga teachers.
I am so thankful for each and every one of you. Whether or not we experienced all six weeks together this year, I hope you know you have left an imprint on me. Lunch breaks at Mission Dolores Park. Awkwardly figuring out hand placements in assists. Sipping on Samovar Tea. Going broke from açaí bowls at Project Juice. Supporting each other through peer teaching rounds. Those first smiles and "good mornings" as I walked into the studio. I know I won't recall all of the tremendous amount of information that was presented during this training, but my memories with you are guaranteed to stick.
Prior to my first day of training in February I came across the one and only veganbunny (Katie) on Instagram. I don't recall how, but we realized we were both enrolled in Jason's training. I was excited to make a connection with someone prior to training. On that first day I felt very insecure. I kept my head down, walked into the studio, and rolled out my mat. I looked to my right and there was veganbunny. Out of a training of fifty students I spent my first day of training next to Katie, a friend I first met on social media. Katie is genuinely one of the kindest humans I have ever had the pleasure to meet. In Module 2 we spent a fair amount of time practice teaching together. Her and I are very similar teachers, but she holds so many qualities I lack. Again, she is kind and sweet and those characteristics shine through beautifully in her teaching. If you ever find yourself in Atlanta, seek her out. She is amazing.
Katie was the first connection I made and many more followed from there. Jacob and I immediately bonded due to our similar experiences in the yoga teaching world. At first I didn't understand everything Vicki said to me, but once I figured it out I was bound to be laughing so hard my eyes would tear up. Nam quickly became the go-to guy for hands-on assists and I appreciated his willingness to share his knowledge. A smile was sure to show on my face due to Hannah's adorable demeanor. Phoenix's wild spirit and youthfulness always left me feeling inspired and wishing I could have lived my younger years with more passion. Abby became my favorite person by doing the whole Dancing on My Own dance (girl, I wish I would've known that sooner!). I envied Melissa's knowledge and leadership skills and felt a close connection with her as we neared the end of training. I had to contain my reaction to constantly hug Adam because he's just so damn huggable. Not only am I always left inspired by him, but moving forward I want all audiobooks to be read by Jeremy. Carla, are all Canadians as generous, kind, thoughtful, and joyful as you? My one regret was not reserving a section of my notebook to jot down all the hilarious things Leslie said. Especially right now since I'm crying far too much while typing this post.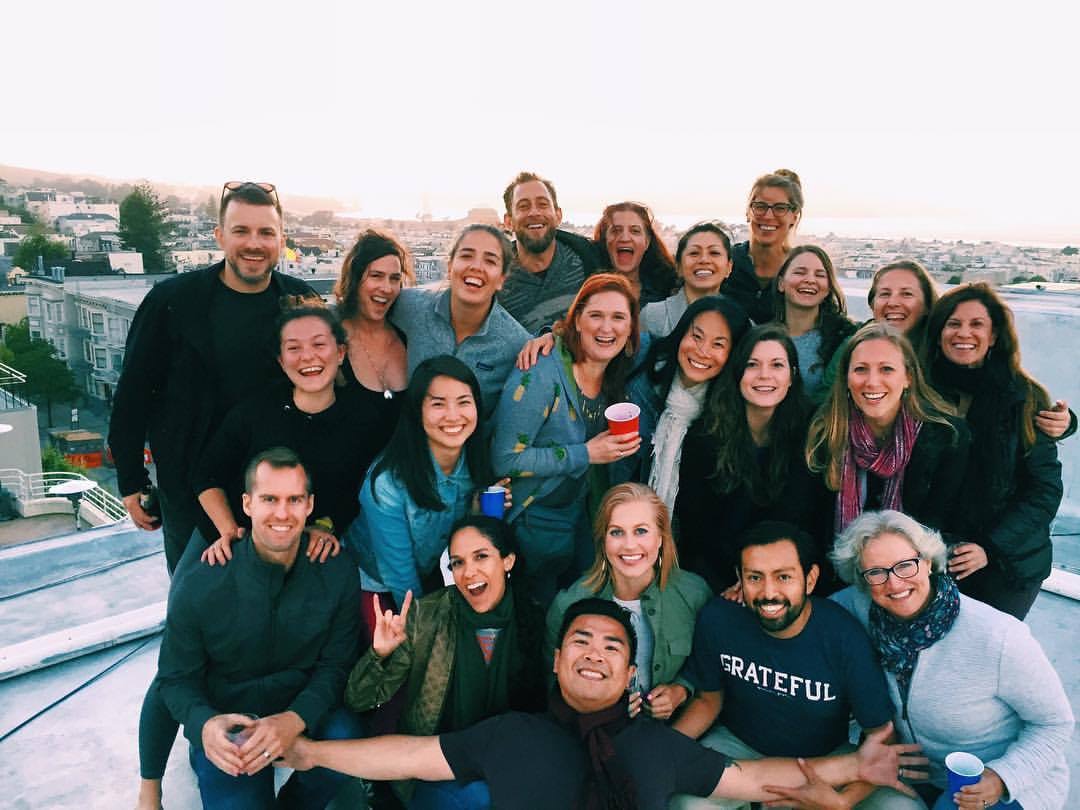 Those are only a small fraction of the tremendously amazing people I had the privilege to learn alongside. It sounds so ridiculous, but I didn't enroll in Jason's training to make friends. On that first day I was all business. However, by day two, I quickly realized my plan to do one module a year for the next three years wasn't an option. I couldn't imagine not completing this process with all of you.
Last, but not least, Team Midwest. I don't have a lot of experience living with other people as an adult other than my husband. I spent a very short amount of time with roommates in college and realized I'm highly independent and probably a terrible person to live with. Stasi and Matt, you became my family in San Francisco. I grew up feeling like an only child due to the age difference between my sisters and me, and in you two I've gained siblings. Thank you for listening. Thank you for understanding. Thank you for giving space when you knew someone needed it. Thank you for making my abdominals hurt for two days due to late night laughs. Thank you for accepting me for who I am. I hope you two know how much I value our friendship. I love you and I'm looking forward to when the three of us meet up again.
I've never had many friends. I'm socially awkward and have mild social anxiety. Even when I was a child I only held a small group of people close. I feel so full due to the friendships I've gained in this training. To all of you, thank you. Thank you for being a friend.
Yours,
Erin